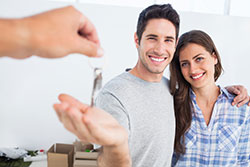 It is our pleasure to welcome our new or continuing residents to our site. We want to thank you for selecting a home with us and we sincerely hope that you find your tenancy with us comfortable and enjoyable.

In this section we have provided information including an application for residency as well as additional contact information and maintenance request forms for our current residents. If we can improve our site content or be of any help or assistance to you now or in the future, please let us know.
Prospective Tenants
Find Your Perfect Home
If you are in the market for your perfect rental home, you have come to the right place. As a prospective tenant, we can help you through the process of finding and applying for the home of your dreams. Once you are a resident, we have a suite of tools to make your rental experience the best it can be.
Resources
---
All documents required by all applicants to be considered for housing.
---
A Completed Application
Government Issued Picture ID or Driver's License or State ID
Social Security Card
Proof of Income

At least one month of recent paycheck stubs
Award Letter for any income received from any source other than a job
Printout of any Child Support received (The order for Child Support is not valid proof)
Agency printout of Unemployment Benefits.
A $40.00 Application Fee
All APPLications take 48-72 hours processing time.
Since you are filling out an online application we will also need you to sign a "Release of Information" agreement that allows us to check your credit and do a rental verification. Please contact the office to receive this paper.
Current Residents
Resources to Make Your Stay Comfortable
For our current residents we have a complete set of tools and procedures to make your stay with us more comfortable and rewarding. Use our website to submit any maintenance requests or just to drop us a line. We love to hear from our residents.
Links and Resources
---
Utilities
---
FAQs
---
Q: Does your Office have an After-Hours Drop Box?




Yes we do, If you need to drop off rent or any other paperwork you'll need to drop it off at our office front-door located at:




2929 E 96th Street Ste A
Indianapolis, IN 46240




---